Your customers are the best judges of your products and services, and their views directly impact how well your organization delivers on its mission. That's why thousands of organizations worldwide have a Customer Experience (CX) executive, who often reports to the leader of the organization. One of the major challenges for organizations and their CX leader is the fact that CX metrics are captured and owned by various parts of the organization.
A recent Gartner paper
 highlights the best approach for measuring customer experience: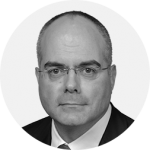 "Present a consolidated view of customer experience metrics across the organization to achieve consistency and customer experience improvements."
CustomerAngle
and its sister products (EmployeeAngle, UserAngle, PublicAngle, etc.) meet all the capabilities highlighted by Gartner:
Capturing various customer experience metrics, such as customer satisfaction, Quality/operations, and employee engagement.
Providing a central dashboard for the organization leadership to view and compare customer journey's across the organization
Having a dashboard for the department leaders to manage their respective portion of customers' journey.
Furthermore, CustomerAngle enables customers to share their views on any touchpoint throughout their journey in less than 30 seconds. And, the staff and leaders responsible for the touchpoint are alerted in realtime so issues are resolved before impacting other customers.